Pan button allows you to position images within the pane. You can change the image position using the mouse or alignment option from the menu. This feature is especially useful when the image is larger than the pane, as it usually is after zooming in.
For changing the image position with mouse, assign the mouse button to Pan function

. To move an image within the pane:
Press the selected mouse button on the image and drag the cursor to the desired place or position.
Release the mouse button to leave the image in its new position.
You can use the Pan menu for changing the image alignment: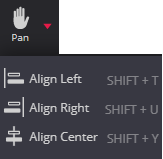 Figure 14. Image alignment options in Pan menu