CAUTION! Due to technical limitations, the quality of reconstructed series images may be reduced, if the size of original series is larger than 0,5 gigabyte.

To start the multi-planar reconstruction, expand the MPR button menu and select the desired option in it: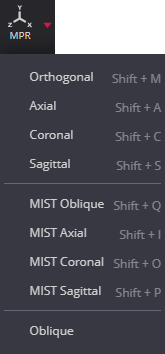 Figure 23. MPR button menu

NOTE! Multi-planar reconstruction (MPR) may be applied for CT, PT, NM, and MR series having more than 2 images in series.