Software enables to view multi-frame images, encapsulated in DICOM format.

NOTE! The system displays enhanced multi-frame image of CT, MR, NM, MG, or OPT modality as a series of images.

CAUTION! Depending on application configuration, in case of corrupted frame the system may either show warning or ignore the corrupted frame and show the last not corrupted frame instead. Contact your system administrator for system configuration.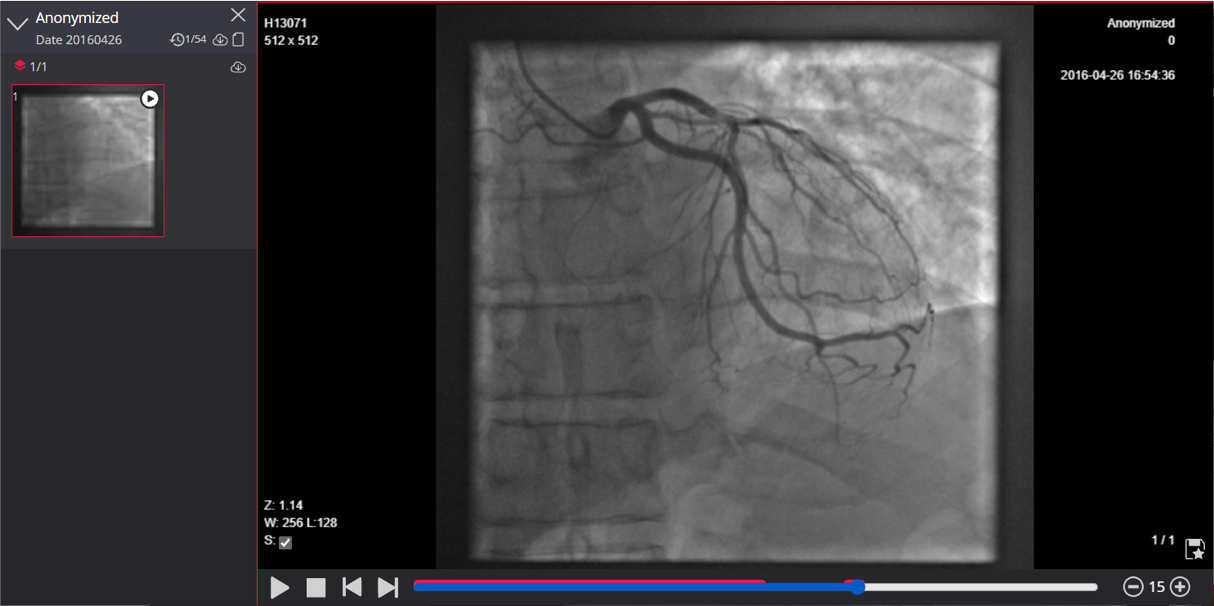 Figure 239. Viewing multi-frame image
The play icon

is displayed on the thumbnail of multi-frame image.
System automatically starts loading instances, when the multi-frame image is opened in the viewport. The loading progress bar is displayed on top of the timeline

System automatically starts playing a multi-frame instance when loaded/
Toolbar for controlling the multi-frame playing is displayed at the bottom of the viewport:
To switch the multi-frame playing off or on, click Pause or Play buttons. The button icon changes correspondingly to the current play status.
To navigate through the multi-frame image by instance, use the Previous Instance , or Next Instance buttons.
To navigate quickly to the specific time in the video file, click on timeline, or drag the timeline cursor , or hover the mouse pointer over the timeline and scroll the mouse wheel. If timeline is used to view multi-frame image instances, the multi-frame playing is automatically switched off.
The values from DICOM file, if available, are used to set the initial frame rate. To increase or decrease the frame rate, click '+' or '- 'button correspondingly. The changed number of frames per second is displayed in toolbar , and immediately applied.

CAUTION! System tries to achieve the requested fps when playing multi-frame. If achieving the requested fps is not possible due to hardware or software limits, some frames may be skipped and not displayed to the user while playing. To see all frames, reduce the fps or use instance by instance navigation.