You can use the AlemHealth Connect Uploader for Windows to upload studies from anywhere, quickly and conveniently. You can select and upload DICOM files, DICOMDIR CDs and DVDs, or send it studies from any DICOM device. These files will appear right on your https://connect.alem.health account.
Download the application here: AlemHealth Connect Client for Windows
Here's how it works:
Download the file and double-click to start the installer. The installation will begin without any further options. Once installation is complete, you will be asked to log in. Use your AlemHealth login email and password. If you don't haven't signed up for a free trial of AlemHealth Connect account yet, visit signup.alem.health to create an account first or click on "Create a new account".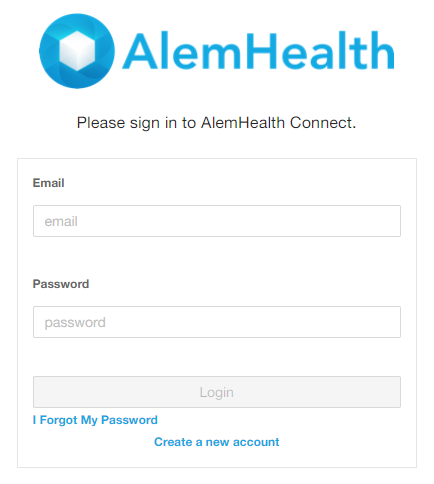 Next, you will see the welcome screen below and will be able to select the facility from which you're uploading studies. If you haven't created a facility yet, visit admin.alem.health/facilities to add facilities to your group first. Click "Verify" to sync the facility to your desktop.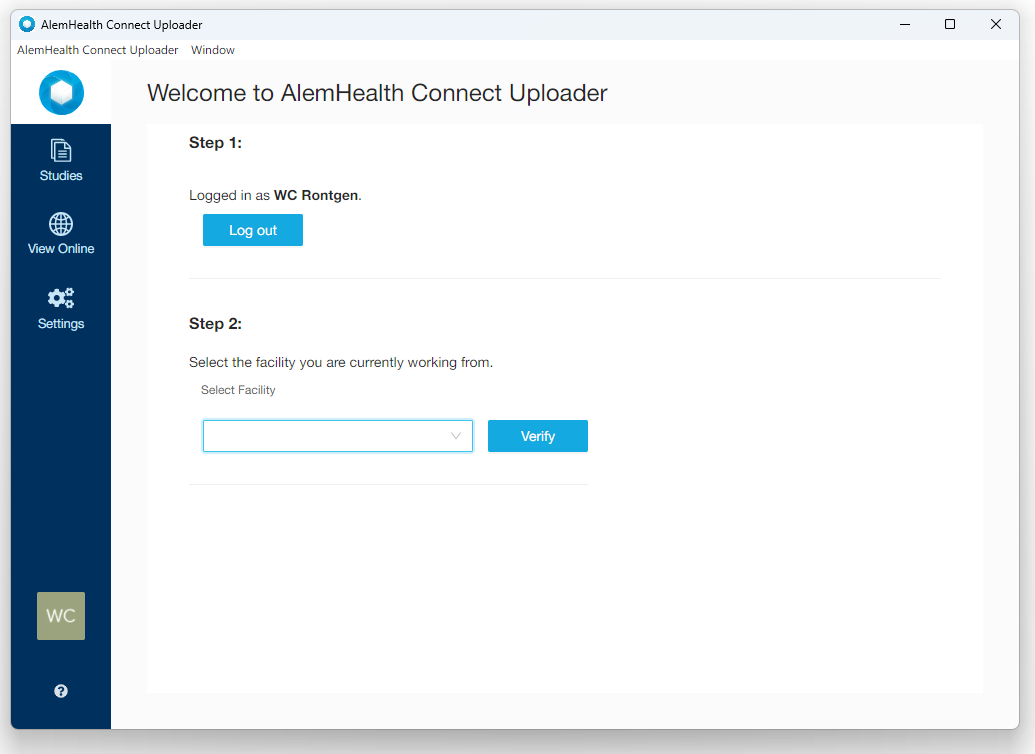 Next, you can select where you'd like to store your medical images on your hard drive. By default it stores the files in the same directory as the Uploader, but you can request that any files are saved to any folder or drive you have access to by clicking the "Browse" button. Click "Confirm" once you've selected the right folder.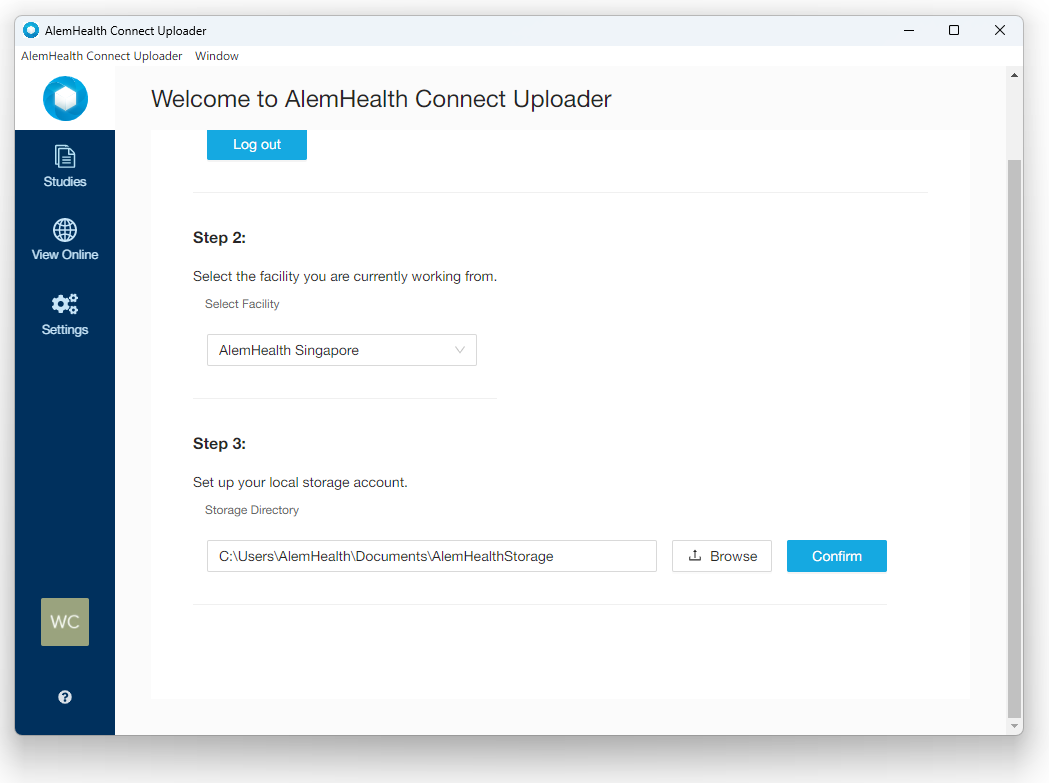 On the fourth and final step, you can configure an optional DICOM listener so you can send DICOM files directly from an imaging modality like an X-Ray or CT to your AlemHealth Connect Uploader. Use the default settings or decide on a new AE Title and Port you would like to use, and click "Apply Changes" to set your DICOM Listener up. You can now enter these values into any DICOM modality in your network that can access your computer, and test whether you can access your AlemHealth Connect Uploader using C-ECHO.
That's all that's required to get AlemHealth Connect configured and synced with your cloud storage.
Now to upload studies:
First, you can upload studies manually from a hard drive or a DVD.
AlemHealth Connect allows you to select DICOMIR files directly from your hard drive or external USB, or upload whole DVDs at a time. Use the desired option on the main uploader screen to upload files or the DICOM CD/DVD of your choosing.

To add DICOM files from a DICOMDIR CD or DVD, insert the CD or DVD into your disk drive and select the drive from the drop-down list here: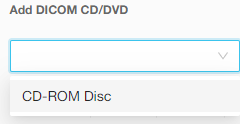 It will automatically scan the disc and select all of the studies on the disc and place them in your upload queue.
To add DICOM files from your hard drive or a USB Stick, click the "Click to Upload" button and select the file or folder you would like to upload.

Whichever way you upload the studies, they will appear in your study window, and you can see the status of the studies and their upload.

The second way you can upload files is to send them directly from your DICOM modalities (X-Rays, CTs, etc.) Set your imaging modalities to the AE Title, Port and IP shown in the settings tab.

Once you have set your imaging modalities correctly, test this by sending a few studies, and they should show up on the uploader list immediately. Once they're done uploading, the status will change to Stored, and you should have a link that will allow you to access them on the cloud platform.

Depending on your internet, it may take a little while to upload large files before they're available on your study list on https://connect.alem.health.
You can then click on the study to open the patient info screen, and edit any of the patient information, study history, or add referring physician and referring facility details here. Click "Save Details" when you're done editing the study details, or click "Back" to go back without saving. Any changes you make here will be synced with the cloud, and any radiologists you share the study with.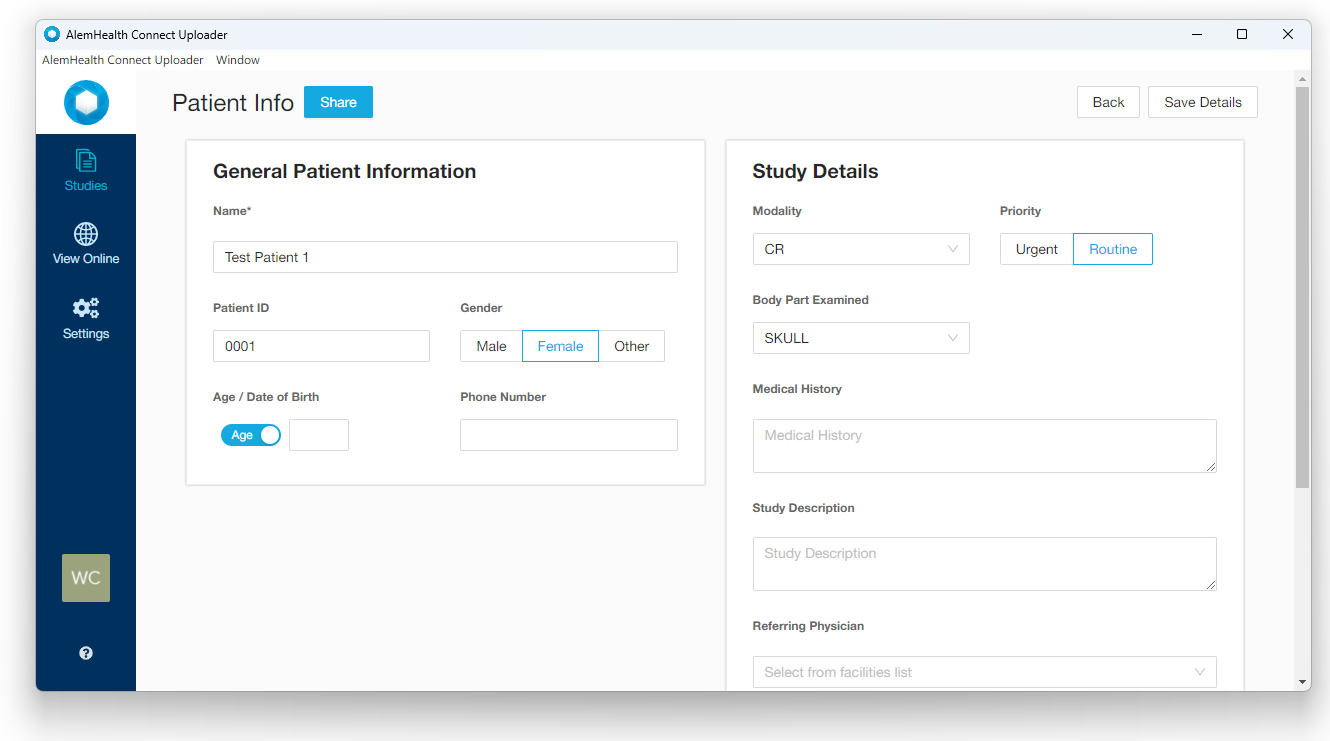 That should get you started with AlemHealth Connect Uploader. If you have any questions, feel free to email us at support@alemhealth.com.